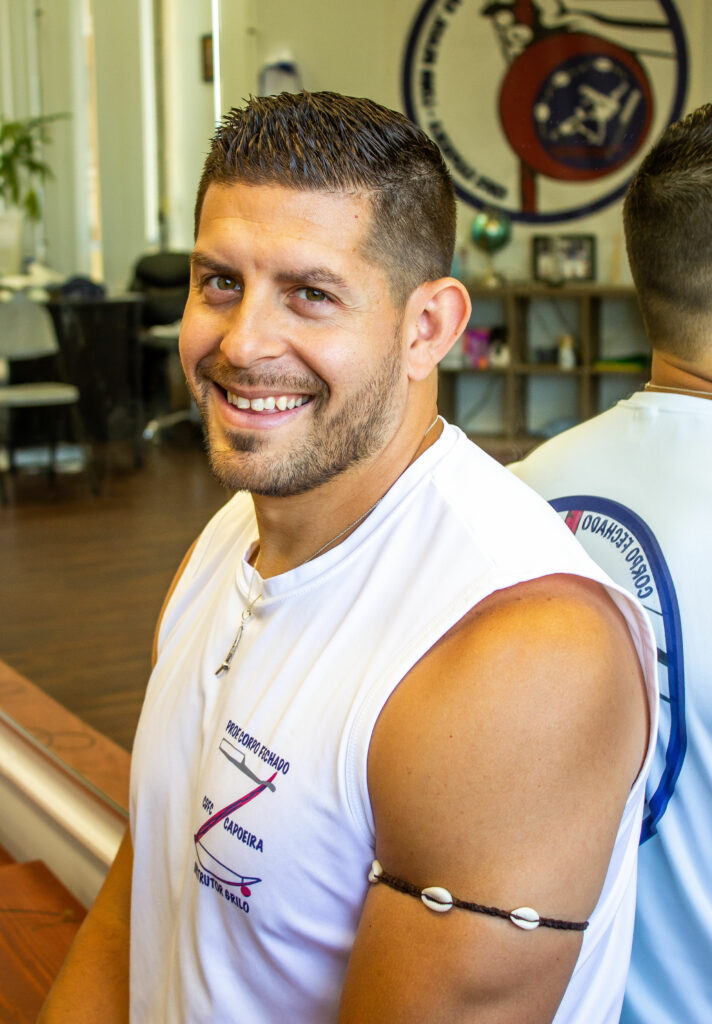 Corpo Fechado has trained Capoeira under Mestre Xingu and Mestre Amen since the age of 12. He was first introduced to Capoeira through the movie, Only The Strong, featuring what would soon be his Mestre, Amen Santo. Since beginning his training at the Santa Monica Airport studio with Mestre Amen, Corpo Fechado has developed a deep respect for Capoeira and the Afro-Brazilian culture.
Corpo Fechado moved to Orange County to attend the University of California, Irvine in 2005. Despite being far from Xingu and Amen, he made every effort to keep his training consistent. During his time at UCI, Corpo Fechado co-founded the Capoeira Cultural Club and became an integral part of instructing the introductory classes with Domingos Begalli at the Anteater Recreation Center (ARC). In this group he aided in the development of new students through the conducting of music lessons, acrobatic beach training, and Capoeira social events.
Corpo has trained in other martial arts including White Lotus Kung Fu, Muay Thai, and Brazilian Jiu Jitsu but Capoeira has always been his passion. This passion fueled his senior research project focusing on the social aspects of Capoeira from the different viewpoints of men and women. He earned two Bachelor of Arts degrees in Criminology, Law, & Society and General Social Ecology. After undergraduate studies, Corpo earned a Master of Business Administration degree, focusing in finance, from the Paul Merage School of Business at UC Irvine. He began his career as a Financial Advisor with Morgan Stanley and Wells Fargo Advisors. He is now the US Head of Brokerage Operations for Ethos Asset Management.
Corpo has since created his own school, The Capoeira Dance & Fitness Center with locations in Long Beach and Irvine. CDFC is affiliated with Capoeira Relampue in Santa Barbara, with the mentorship and guidance of Mestre Mariano Silva.
Corpo Fechado has spread Capoeira and related arts (Maculele and Samba) through performances with Ballet Folclorico Do Brasil directed by Mestre Amen, projects with Mestre Xingu, projects with BCACSB directed by Mestre Mariano Silva, and through his own endeavors with CDFC Capoeira Long Beach & Irvine. These performances include school assemblies, community events, martial arts expositions, dance performances, red carpet events, and music videos. Corpo Fechado hopes to keep building his Capoeira classes while creating a strong Capoeira community in Long Beach and Orange County. He truly believes that anyone that can walk (and even some that can't) can play Capoeira and benefit from the endless gifts the art has to offer.